'The Birth of Creation' (2007) by Kaeti Wietzel
---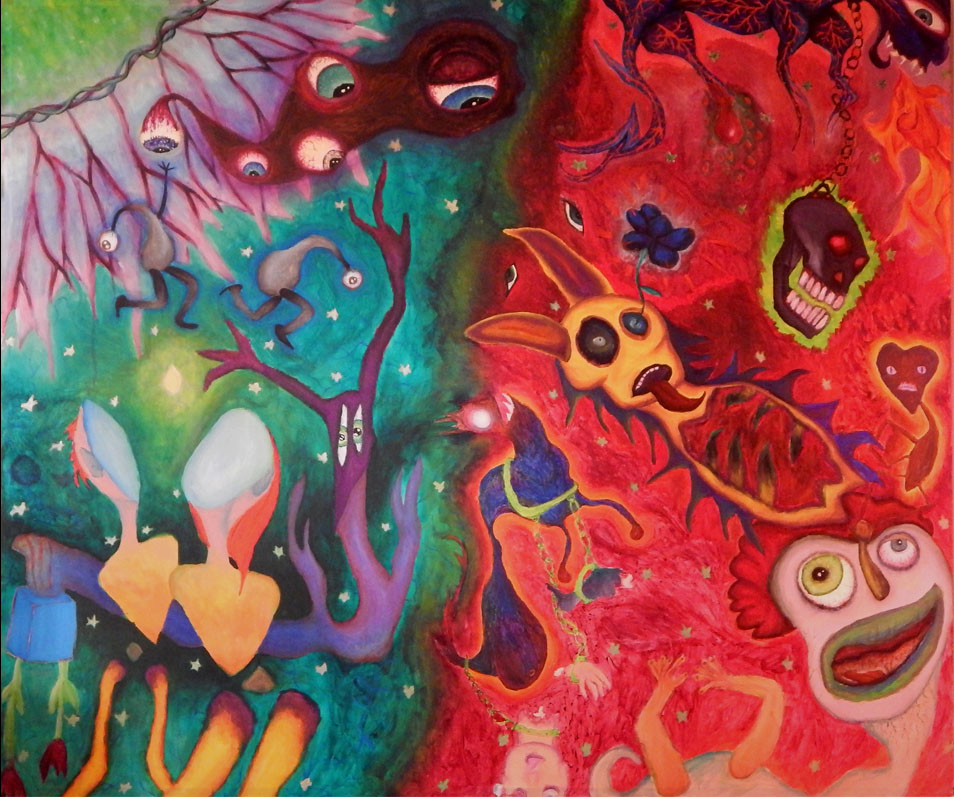 Artist Kaeti Wietzel
Title The Birth of Creation
Dimensions 1219 x 1524 mm (48 x 60 in)
Medium Acrylic on canvas
Year 2007
"They arise, I give them light and colour. Painted atrocities of imagination." ~ Kaeti Wietzel
---
'The Birth of Creation' is a large, dualistic painting split vertically down the centre of the canvas by contrasting colours and biomorphic forms of hot and cold. It is an 'automatic' painting depicting the shadow aspect of the psyche and those 'nameless things' outside the light of consciousness that may be positive or negative.
'The Birth of Creation' is one of Kaeti Wietzel's 'automatic' paintings that was created using the Surrealist method of psychic 'automatism'.
'Automatism' is technique of subconscious drawing in which the artist allows their unconscious mind to take control. Psychic 'automatism' is inherently antinomian in practice as it is a method to escape from cultural, intellectual and historical constraints and unlock the basic creativity supposedly lodged deep within the artist's personality. It has been also practised for centuries by mediums and practitioners of the psychic arts.
"I was able to create most of the red portion during a few months. Then changes and moves in my life kept me away from the painting for almost a year. When I began again, in a new place with my self and environment, the look of the left side became markedly different from the right. During this time in my life, the subjects were always monsters. Thoughts that creep out, forms that take shape out of the dark." ~ KW
See also: 'Pig God' (2006) by Kaeti Wietzel.
Back to the homepage