'Pig God' (2006) by Kaeti Wietzel
---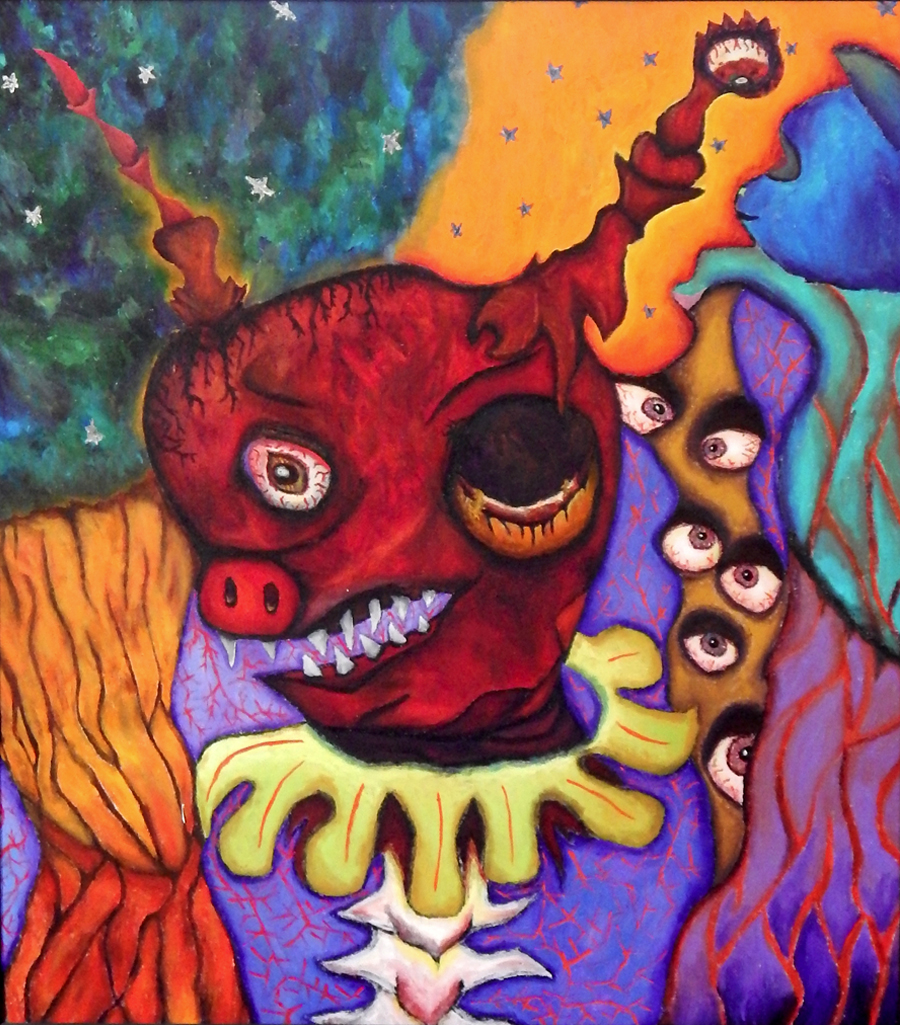 Artist Kaeti Wietzel
Title Pig God
Dimensions 610 x 914 mm (24 x 36 in)
Medium Acrylic on canvas
Year 2006
"This image began in 2006, painted in completed form from the top left corner across the canvas diagonally to the lower right corner. I held an image in my mind, and let it fluctuate as I painted. There were no sketches or planning drawn out beforehand." ~ Kaeti Wietzel
---
'Pig God' is an 'inner-self' portrait depicting an anthropomorphic multi-eyed deity surrounded by richly coloured folds, thread like veins, stars and disembodied eyes.
'Pig God' is one of Kaeti Wietzel's 'automatic' paintings that was created using the Surrealist method of psychic 'automatism'.
'Automatism' is technique of subconscious drawing in which the artist allows their unconscious mind to take control. Psychic 'automatism' is inherently antinomian in practice as it is a method to escape from cultural, intellectual and historical constraints and unlock the basic creativity supposedly lodged deep within the artist's personality. It has been also practised for centuries by mediums and practitioners of the psychic arts.
"Pig God is my most successful portrait to date. I did not set out to create him, but saw him as such as he formed on the canvas. He is a representation of an inner view of self. A self portrait of a side not always looked at, something that tries to hid because it is not admirable. The pig god contains all that is views as gross and unseemly, while having characteristic close to humanity to make it uncanny. Yet, there is something godly and proud to the character." ~ KW
See also: 'The Birth of Creation' (2007) by Kaeti Wietzel.
Back to the homepage