'Homo Ludens – Orgonorama' (2016)
by Fergal T. Fitzpatrick
---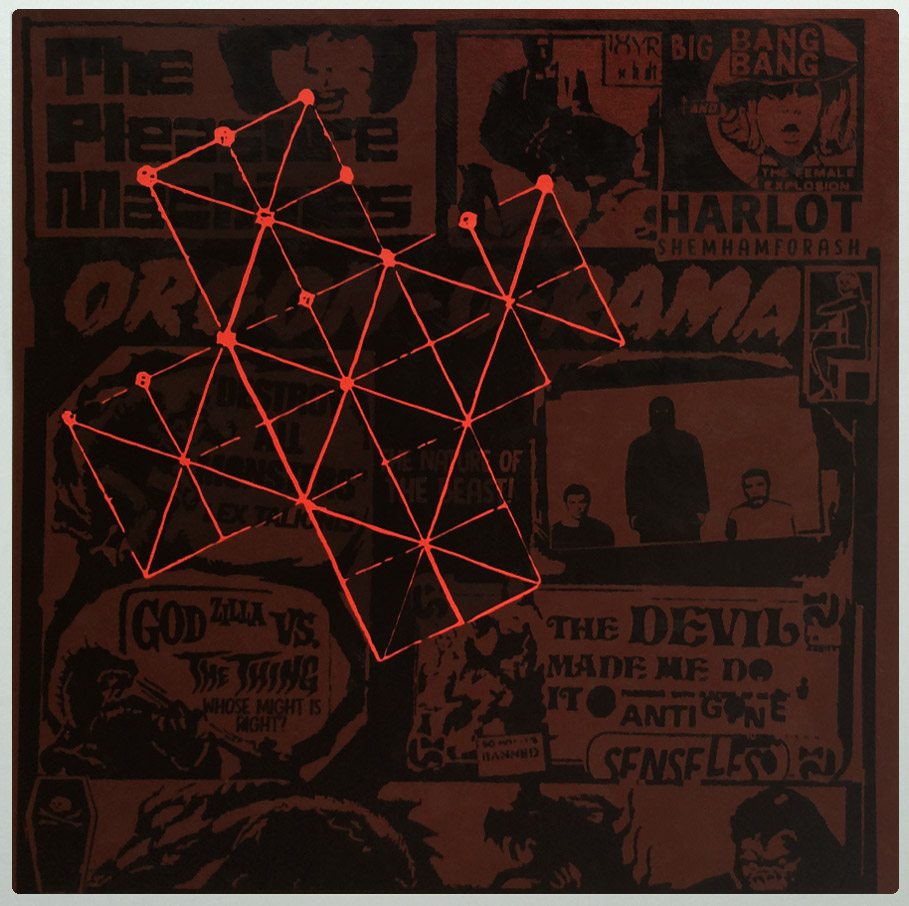 Artist Fergal T. Fitzpatrick
Title Homo Ludens – Orgonorama
Dimensions 666 x 666 mm [26.2x 26.2in]
Medium Acrylic and oil on canvas
Year 2016
"The separation of the self from the environment is a fundamental key to allow the self to experience its own innate patterns even if it means accepting the arbitrary rules of a game in order to facilitate the experience of playing." ~ Fergal T. Fitzpatrick
---

"Homo Ludens – Orgonorama" is a square painting set in the colours red, black and burgundy. The background is composed of mediated imagery similar to a page in a tabloid newspaper. It is a pastiche of unusual products, sexual services, strange headlines and diabolical monster imagery.

The background can be roughly split into 3 sections.
Top = pleasure / fulfilment
Middle = pain / conflict
Bottom = death / unknown
Overlaid upon the burgundy background in bright red is a cross from the game Fox & Geese. Fox & Geese is a game of inequality and is played upon a cross shaped board consisting of 33 sections.
"Homo Ludens – Orgonorama" depicts a dualism between two gaming worlds. The first world is represented by the background. This is society, material culture and our surrounding environment. The background is the playing space of the 'real', the here and now of life, competition and ruination [pleasure, pain and death]. This is the objective world with all its fixed limitations that effects the freedom of all within its domain. This is this primary world that drives the player.
The second gaming world is the red cross. That is the game of the individual [the Self] separate from the surrounding environment [the collective] indulging in ones subjective prelusory goals. The separation of the self from the environment is a fundamental key to allow the self to experience its own innate patterns even if it means accepting the arbitrary rules of a game in order to facilitate the experience of playing.
Part of the original inspiration for Indulgence Games came from Anton LaVey's comments about "higher man's" awareness of the meta-games in life and his knowledge of how to play them, while "lower man" is merely a pawn in such games. The discerning eye will notice many of LaVey's own influences in the paintings background that helped shape his thoughts and actions. There are allusions to Ragnar Redbeard, to Gurdjieff, to William Mortensen and to Wilhelm Reich to name but a few.

See also: 'Blood Inside' (2015) by Fergal T. Fitzpatrick.
See also: 'The Twin Poisons of Jealousy and Success' (2015) by Fergal T. Fitzpatrick.
Back to the homepage