'Damnation Games' (2014) by Fergal T. Fitzpatrick
---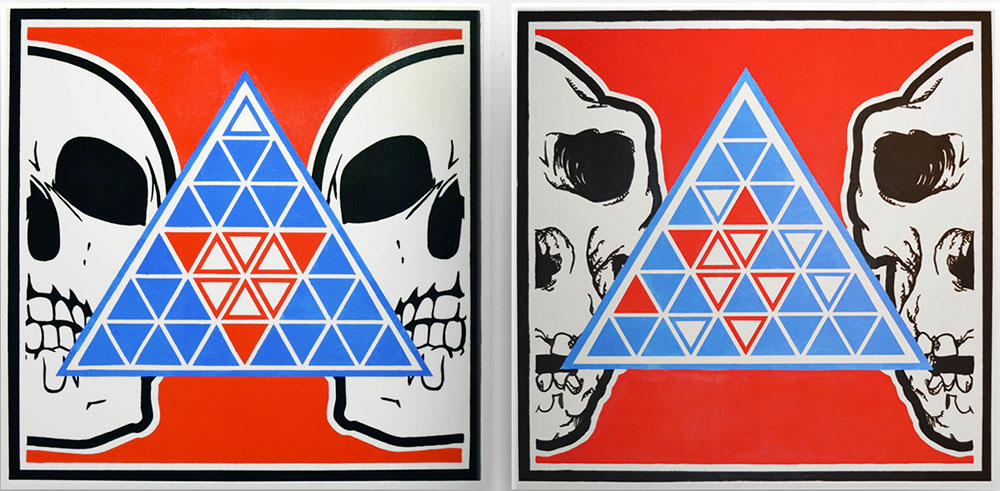 Artist Fergal T. Fitzpatrick
Title Damnation Games
Dimensions Diptych 1400mm x 700mm (55.1 x 27.5 in).
Medium Acrylic on canvas
Year 2015
"I wanted to force the viewers engagement again with questions of life as a game in the shadow of death." ~ Fergal T. Fitzpatrick
---

With 'Damnation Games', a large 70x70cm acrylic painting, with 2 skulls overlaid by a triangular grid, Fergal T. Fitzpatrick wanted to force the viewers engagement with questions of life as a game in the shadow of death.

With 'Damnation Games' I am interested in exploring how competitiveness can lead to progress and self perfection. One painting is balanced and harmonious the other, although similar is degraded and unorganised. The übermensch and the untermensch in symbolic gaming form. ~ FF
The triangular 6x6x6 grid is a gaming board and speaks to life's competitiveness, to life as an intrinsically motivated game with rule systems ripe for subversive practice, like bluffing, chance, precision, mimicry and advancement. Every game has its cheats, with knowledge of the rules comes the opportunity to bend or break them. But all games are restricted in time and space. Death, always present, is irrevocable and there is no magic that can vanquish it. Death both defines the space of this free activity in as much as Death is the ultimate endgame.

See also: 'Blood Inside' (2015) by Fergal T. Fitzpatrick.
See also: 'Love God Harder' (2015) by Fergal T. Fitzpatrick.
See also: 'The Twin Poisons of Jealousy and Success' (2014) by Fergal T. Fitzpatrick.
Back to the homepage