'Black Horizon Perspective' (2015)
by Lloyd Keane
---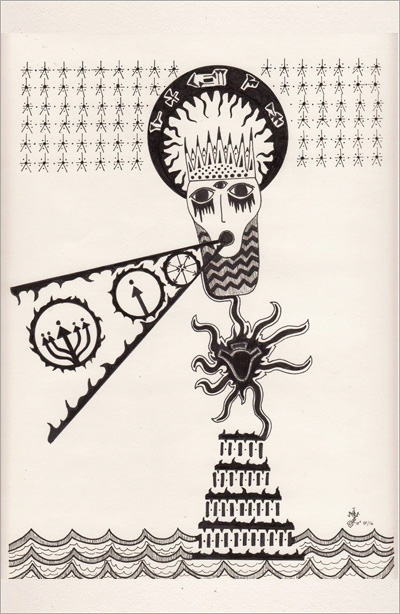 Artist  Lloyd Keane
Title A Spell For The New Year
Dimensions 210 x 297 mm (8.27 × 11.69 in).
Medium Pen and ink on paper
Year 2015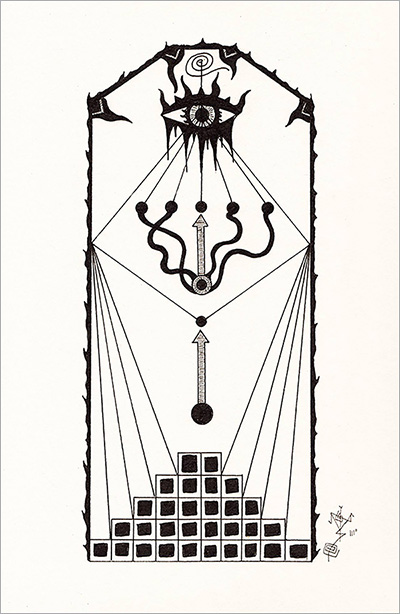 Artist  Lloyd Keane
Title Black Horizon Stele
Dimensions 210 x 297 mm (8.27 × 11.69 in).
Medium Pen and ink on paper
Year 2015
---
"A Spell of the New Year was a magical Working to kick off the New Year. The head is a stylized representation of me. I am crowned with the letters for Melammu or dread. My Heart radiates with an unnatural Black Flame. It feeds into my message. The Heart is supported by a stylized ziggurat which contains the "Holy of Holies" in Mesopotamian culture. From my mouth are the symbols (from right to left) for Tyro, Seeker, and Explorer. This spell was to start off the Year of the Perspectives."~ Lloyd Keane

Lloyd Keane's art depicts an innate personal vision that revels foremost in the creative act as a form of isolate expression. Keane is interested in visually mapping out the territory of his experience to communicate Initiatory practices and states of being.
"[in 'Black Horizon Stele']…Tyro is symbolized by the stacked blocks at the bottom. This foundation informs and supports all aspects of Initiation. The single arrow above the blocks is Seeker, the single point being the solitary focus. Explorer is symbolized by the single arrow accompanied by undulating tentacles. The Seeker's laser precise focus makes way for tangential exploration and experimentation. A single open eye symbolized the Watcher. The Watcher is a byproduct of all the other Perspective. Above the eye is a spiral, a Gateway to the Principle of Isolate Intelligence. This piece is a guide stone for what was to begin in 2016."
~ LK

The 'Black Horizons Stele' [above right] was created at the end of 2015 and shows in condensed form the four perspectives as organising principles in a fashion similar to an Egyptian stele or a religious icon. Each of these 'perspectives' grew into works of their own and are elaborated into diagrammatic glyphs of aspects of Initiation.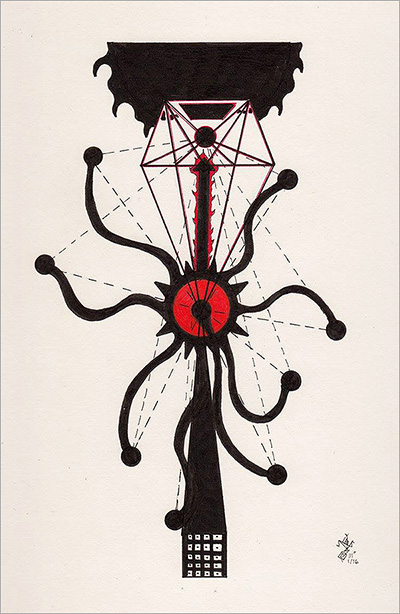 Artist  Lloyd Keane
Title Explorer Stele
Dimensions 210 x 297 mm (8.27 × 11.69 in).
Medium Pen and ink on paper
Year 2015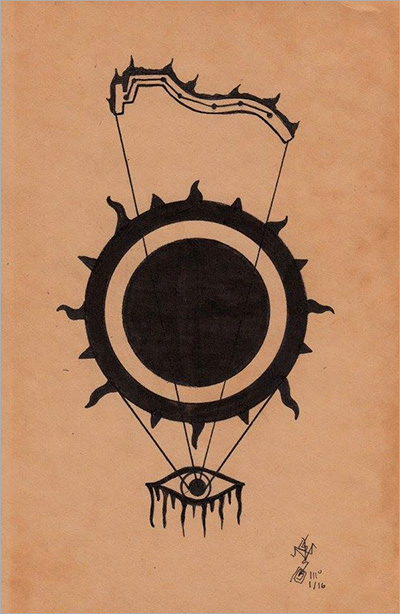 Artist  Lloyd Keane
Title Ordination
Dimensions 210 x 297 mm (8.27 × 11.69 in).
Medium Pen and ink on paper
Year 2015

'The Explorer Stele' [above left] depicts a state of one open to experiencing the tangential and the strange. Here the tentacle like rays symbolize possible directions to explore. A strange trapezoid, emblematic of Mystery, touches or emerges from, a partially visible Black Hole.

"I often attempt to express the ineffable in my creations. 'Ordination' is meant to reflect an aspect of my own ordination as a Priest of Set in an initiatory magical order of the Left Hand Path. The symbolism in 'Ordination' speaks to the often strange experiences and transmissions that occur within my Psyche." ~ LK
See also: 'The Twin Poisons of Jealousy and Success' (2015) by Fergal Fitzpatrick.
See also: 'The Angles Series' (2014) by Andre Harke.
See also: 'Witch' and 'Black Flame' (2014) by Andre Harke. See also: 'Love God Harder from Within the Red' (2015) by Fergal Fitzpatrick.
Back to the homepage